Our office is unique in that we utilize the Patient Manager System, which Dr. Bray first implemented and now presents to other orthodontists, helping them to use the system in their office. When you come to our office, you will be assigned to a patient manager. Your patient manager works with the doctor and will see you each time you come to the office for a visit. By having your own patient manager, you are able to form a relationship with the person who knows all about your treatment.
Our team keeps up-to-date on new orthodontic advances by attending continuing education classes and many seminars, conferences, and lectures every year.
We are a strong team that works together to provide the best orthodontic treatment to our favorite member of our team: YOU! We hold many staff meetings and retreats to continue to communicate the need of our patients to each other and to consistently provide treatment in the best possible manner.
Our orthodontic team of professionals has more than 125 years of combined experience in providing outstanding orthodontic services to our patients.
---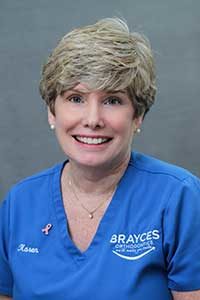 Karen
Patient Manager
Karen has been part of the "Brayces" team since 1981. She is a Certified Dental and Orthodontic Assistant.  As a patient manager, Karen works closely with her patients, one on one, making sure that each of her patient's treatment is proceeding as scheduled.  Throughout the years at Brayces, Karen has enjoyed meeting all the wonderful people that have come to the office and has made lasting friendships with many.
---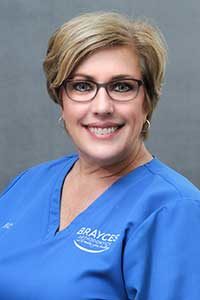 KC
Patient Manager
KC has been apart of the "Brayces" team since November 2000. As a Patient Manager, KC works closely, one on one with her patients, making sure that each patient's progress is proceeding on schedule. It is obvious that KC enjoys her job and cares very much about her patients' well being.
---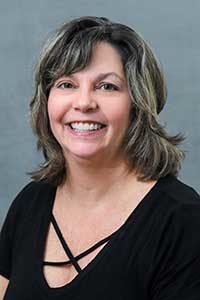 Kathy
Patient Manager
Kathy is a Patient Manager at "Brayces". She has been working in the orthodontic field for many years. As an experienced professional, you can be assured that Kathy will maintain steady, thorough care during your orthodontic treatment with the best possible result. Kathy is happily married with two beautiful children. She keeps busy with volunteer work in the community and her children's busy schedules.
---

Michele
Patient Manager
Michele has enjoyed working closely with patients of all ages at "Brayces" for many years.  She is very proud to be a part of an office that excels to be the best at what they do by providing patients with excellent customer service and state of the art orthodontic care. The quality of these services is top notch due to the continued desire to provide the best orthodontic care possible and the desire to stay educated on the newest technology.  When Michele is not working she enjoys spending time with her husband, son, and dog Poppy exploring the beauties of the shore.
---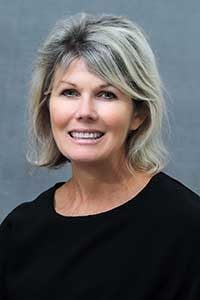 Kimberly
Treatment Coordinator
Kimberly has been a part of the "Brayces" team since May 2009. Her duties at the office include meeting with new patients and their families to help guide them through the treatment process, explaining treatment plans and options, office policies, and presenting financial information. Kimberly finds it rewarding to know that she is contributing to so many healthy, beautiful smiles.
---

Andrea
Treatment Coordinator
Andrea is a Treatment Coordinator at "Brayces".  She very much enjoys meeting new patients and their families. She finds it very rewarding to ease the anxiety that can be caused by treatment fears and overwhelming costs. After meeting with Andrea you will know all about the treatment process and "Brayces" affordable, interest-free monthly payments. Andrea enjoys spending all of her free time with her husband, children, and grandchildren.
---
Jennifer
Financial Coordinator/Receptionist
Jennifer has been a member of the "Brayces" team since 2015. As one of the Financial Coordinator's, she oversees patients financial accounts and is available 5 days a week to answer any financial questions or concerns regarding treatment. Jennifer's 3 children are former patients of Dr. Bray & Dr. Tarby. In her free time, she enjoys cooking, gardening, reading and most important spending time with her family.
---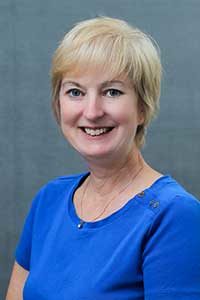 Debbie
Bookkeeper
Debbie started with the "Brayces" group in June 2012 as a bookkeeper.  She is charged with ensuring that all of the vendor payments are timely, the deposits are recorded and the payroll is posted.  Her type "A" personality guarantees that the accounts will be reconciled to the penny.  Debbie enjoys spending her free time with her family.  Interests include travel and reading.